The Lockheed Martin F-35A appears likely to secure a 20 aircraft follow up order from Seoul, as the type makes its ADEX debut in the livery of the Republic of Korea Air Force (ROKAF).
One example is in the show's static display, with three jets to appear in the flying display during the opening ceremony.
This is the second public unveiling of ROKAF F-35As in South Korea, following a previous display in September. Seoul has taken delivery of eight examples out of an order for 40.
Last week, official news agency Yonhap reported that Seoul's Defence Acquisition Program Administration will earmark W4 trillion ($3.4 billion) to obtain 20 new fighters from 2021, as a continuation of the previous F-X III competition.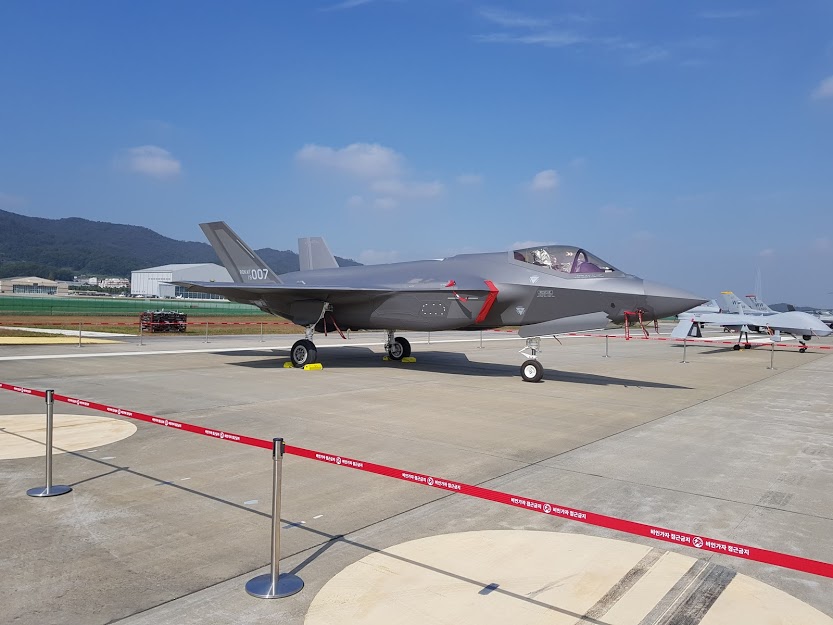 Seoul has received eight of 40 F-35As on order.
Greg Waldron
During a pre-show media briefing, Korean defence official Lee Sangcheol had this to say about the F-35A's chances in the potential 20-jet deal: "I cannot clearly confirm it yet, but that's the way I think it will unfold. That is my personal opinion."
Reports in Korea have suggested that the F-35A is all but guaranteed to be selected. This is in contrast to the hard fought competition that characterized the first instalment of F-X III, which pitted the F-35A against Boeing's conceptual F-15 Silent Eagle and the Eurofighter Typhoon.
F-X III was originally for 60 aircraft, but when the F-35A decision was announced the number ordered was 40.
When contacted by FlightGlobal, Boeing indicated that it is also potentially interested in the deal.
"We look forward to working with [DAPA] and the Republic of Korea Air Force, as they review requirements for a next generation fighter. The Boeing F-15's payload, performance and persistence make it a compelling option for Korea's next generation fighter force structure, as is evidenced by the significant investment in the platform by air forces around the world," it says.
Source link